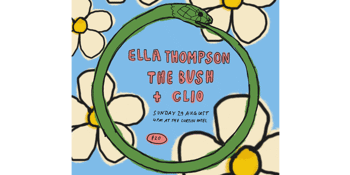 POSTPONED - A SENTIMENTAL SUNDAY WITH ELLA THOMPSON + THE BUSH + CLIO
John Curtin Hotel (Carlton, VIC)
Sun 29 August 2021 - Sat 1 January 2022 4:00 pm
Let's spend A Sentimental Sunday together because music is best shared with friends; we open our spell books and share a tale or two.
Ella Thompson will debut her new 6-piece band and unheard works set soon for release. Usually known for her collaborations as part of GL and Dorsal Fins, Ella takes time to unfurl her song writing and production. Musically hinting at both the future and the past with a love of classic synthesisers, melodic soul, 70's drum heat and the fluidity of improvisation, Ella's voice is given a bed of honey to soar.
The Bush, find influence in the eucalypic estuary of bright pop and nineties-inspired sounds. With gentle guitars, yet brazen attitudes, they deliver songs of contemporary anxieties with a calm eloquence, all thrown in with a cheeky wink.
Clio creates breathy, melody-driven Indie Pop performed with her all-star band. As a prolific musician touring as keyboardist with some of the country's best, Clio released her acclaimed 2018 EP Something Left to Leave Behind, and her debut album nothing breaks, nothing mends during lockdown in 2020.
This special show will take place at The Curtin a venue we hold dear to our hearts. The Curtin has been a champion of our community over the years and a water hole of memories for many. Join us and say cheers to new beginnings and good times.