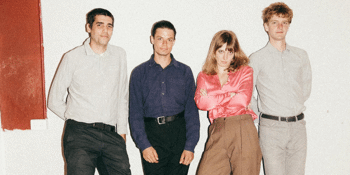 POSTPONED - SMARTS 'Who Needs Smarts, Anyway?' LP LAUNCH
supported by Dragnet + Ouzo
John Curtin Hotel (Carlton, VIC)
Fri 27 August 2021 - Sat 1 January 2022 8:30 pm
DUE TO THE CURRENT COVID 19 RESTRICTIONS THIS SHOW HAS BEEN POSTPONED. A NEW DATE WILL BE ANNOUNCED ONCE WE RECEIVE A CLEAR ROADMAP TO REOPENING. PLEASE HOLD ONTO TICKETS WHILE WE AWAIT TO SET A NEW DATE.
Equally energetic, stressful and annoying, local band Smarts will launch their 2020 debut LP "Who Needs Smarts, Anyway?" next month at The John Curtin Hotel on August 27th. Released on Anti Fade (AU) / Feel It (USA) in October last year; what better time to launch the record than now - nine months after it's release. Joined on the night will be Geelong's hottest six-piece, Dragnet, and Menzies Creek finest quartet, Ouzo.
Listen to
Who Needs Smarts Anyway?
HERE
To stay updated join the
Facebook Event